HISTORIC HOMES - Real Estate for sale in Alabama, Georgia, Tennessee - some Historic Homes with land, some homes are renovated, some with owner financing. for Sale in AL, GA & TN.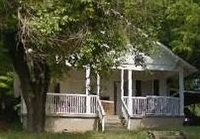 This historic home was built in the 1930's and features 2 bedrooms, 1 bath, living room, kitchen and laundry room.  Located in Lupton City in North Chattanooga, TN, this home has off street parking, carport and large front porch with winter view.  Will rent 2 own with just $3,000 down and $700/mo.  Call 423-462-2700. 
Your Real Estate - Historic Home For sale ad could be here! Call 423-462-2700 or 423-665-2982. Historic homes and estates for sale in Grundy Co., Middle, TN, Cumberland Plateau.  Also East Tennessee, Middle Tennessee, North Georgia Mountains, Northeast Alabama, USA.  Historic homes for sale by owner & Broker.